Classified positions are non-teaching positions that support educators and schools throughout Los Angeles County. Careers within LACOE include professions that directly or indirectly impact the success of students throughout Los Angeles County.
LACOE employs staff across a wide variety of position classifications in the following areas:

Accounting and Finance
Clerical and Secretarial
Facilities and Construction
Human Resources
Legal and Regulatory

Braille and Sign Language
Communications and Video
Grants and Legislation
Information Technology
Student Services
The Personnel Commission is an independent body responsible for maintaining the Merit System for classified employees and overseeing the work of the Executive Director and the Personnel Commission staff.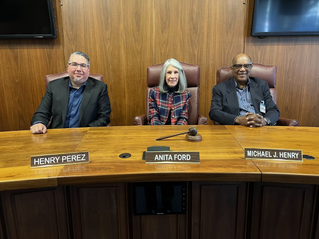 Michael J. Henry, Chairperson
Mr. Michael J. Henry is a joint appointee effective December 1, 2011, and reappointed for a three-year term effective December 1, 2020.
Dr. Sharon Dezutti, Vice-Chairperson
Dr. Sharon Dezutti's re-nominated by SEIU was approved by the County Superintendent, on November 02, 2021. Her re-appointment is effective December 01, 2021, for a three-year term.
Anita Ford, Member
Mrs. Anita Ford was re-appointed by the County Superintendent effective December 1, 2022, for a three-year term. Mrs. Ford retired from the Los Angeles Unified School District as the Personnel Director in December 2005 and has been an active member of the Personnel Commission of the Los Angeles County Office of Education since 1990. She is active in numerous professional and community organizations.
Training & Experience (T&E) Evaluation
Multiple-Choice Test
Performance Test
Structured Interview
A T&E is a scored evaluation of job application materials submitted by a candidate. Scoring is done by qualified raters who have experience in the job field. The materials evaluated may include the application and question responses. The T&E is a method for determining the best-qualified candidates among those who have shown that they meet the minimum requirements.
A multiple-choice test evaluates how prepared a candidate is for the job duties and responsibilities by measuring specific knowledge areas that are important to a job such as knowledge of the industry, equipment, safety rules, and regulations.
In a performance test, a candidate is tested on their ability and skill in performing important and frequently performed job duties. The type, structure, and content of the performance test can vary greatly from job to job.
A structured interview consists of standardized job-related questions asked of all candidates. Structured interviews are conducted by an interview panel, often consisting of at least two people and is recorded. A structured interview is designed to assess the evidence of job-related competencies that are needed to successfully perform the job.
All job opportunities, open or promotional, are advertised online (Governmentjobs.com) and physically posted at the Personnel Commission Employment office. These postings are also called "job bulletins." For the large majority of our job opportunities, only online applications are accepted. In rare instances, a paper application or resume may be accepted, but this will be noted on the job bulletin.
Voluntary transfers can be requested to a different position WITHIN a job classification. Voluntary transfers ACROSS job classifications are generally NOT approved except under special circumstances. To request a transfer, all that is needed is to contact the Office of the Personnel Commission by phone or email, and we will assist you in completing a new or using your existing online application, and submitting it to an online transfer list. If you prefer, staff will accept your written or email transfer request and place you on a transfer list without your using the online process. However, use of the online process will ensure that the hiring manager will have your up-to-date work and educational history and contact information. When a vacancy occurs, your transfer request will be provided to the hiring manager for consideration.
No, you will remain eligible for a permanent position and your rank will not be affected.
All public agencies are under a demanding mandate to be more cost effective and accountable in their operations. To this end, the LACOE Personnel Commission has found that using the internet and a computerized application process reduces mailing and materials costs, increases accuracy, reduces time to process applications, and provides distinct advantages to candidates for managing and updating their applications and contact information. Because most occupations involve using a computer, and computers are practically everyday appliances in most homes, it has become reasonable expect candidates to apply online.
If you do not have access to a personal computer or the internet, you may come to the Office of the Personnel Commission and use one of the computers provided for this purpose. The receptionist will assist you in how to search for jobs and how to complete the online application.
You can submit a paper application only for LACOE jobs for which using a computer would not be expected. These jobs are: Paraeducator, Delivery Driver and Custodian.
Yes. To apply online, you will need an individual email address. If you don't have one, you can register for free email at several internet service sites such as Yahoo (Yahoo Mail), Google (Gmail), Microsoft (Hotmail), Excite (Excite) to name a few. LACOE does not endorse or specifically recommend any particular site or email service.
It is possible but strongly not recommended, and for the reasons above it is seldom necessary. Email messages will notify you of important information and scheduled activities in the selection process such as testing appointments and assessment results. Sharing an email address increases the risk of an important message being deleted or missed, and it increases the exposure of confidential information.
No. Your application cannot be submitted until you actually apply for a position. However, in the meantime, you can set up a job seeker account at www.governmentjobs.com and you can also request email notification of postings in specific job categories.
No, this is one of the advantages of applying online. Once you have created a master application you can submit it to as many different job opportunities as you like.
No. The application contains specific information necessary for proper evaluation and processing. However, you may attach your resume to the application following the instruction provided on the online job application.
You may apply if you are in the final semester or quarter of your degree. However, you will be withheld from the eligibility list until proof of the degree is provided.
You may attach a copy of your diploma or transcripts to your master profile (application) on the application website. To do this you should save the copy as an Adobe Acrobat file (pdf) and upload it. Also acceptable, is a copy of degree verification from National Student Clearinghouse: www.studentclearinghouse.org/ You may also bring a copy of your diploma or transcripts to the Office of the Personnel Commission at any time during the recruitment or examination process. It may be most convenient to bring it when you are scheduled to come in for an examination part. The original will be photocopied and returned to you.
If verification of your degree or other required education credentials is not received within 30 days of the establishment of the eligibility list, you will be removed from eligibility.
You must have your foreign degree evaluated by an approved agency and submit the agency evaluation along with your degree/transcripts. It is strongly suggested that you contact a foreign transcript evaluation agency as soon as possible, as the time to obtain this verification can sometimes take several weeks. The Los Angeles County Office of Education does not advocate a particular agency, but applicants seeking additional information for obtaining foreign degree equivalency verification may visit the following link to assist them with this process at: http://www.ctc.ca.gov/credentials/leaflets/cl635.pdf
If you worked temporarily at a higher assignment than your job title and routine duties would indicate, you should list that assignment as a separate "job", stating the start and end dates and listing the duties performed. This will help in accurately calculating the number of years and months of experience that meet the minimum requirements.
Changes to your contact information must be made in your master profile at the following link: https://www.governmentjobs.com/js_login.cfm. If your employment availability has changed, you may contact the Office of the Personnel Commission.
Yes. Once you have built an online account with your application, you may make updates at any time. You will need your username and password to access your information. Once you have submitted an application, however, the application is "frozen". If you wish to change or add information before the end of the filing period, you will need to submit another application. If you submitted more than one application, only the last one submitted will be considered official – any others will be ignored.
The filing period is the time during which applications are accepted for a job recruitment. When the filing period ends, applications are no longer accepted for the recruitment.
The recruitment will remain open until there is no longer a need for candidates. A continuous recruitment may close at any time, and it is wise to apply as soon as possible in response to a continuous recruitment.
In general, no. However, when there are compelling circumstances beyond the control of the candidate (such as military duty) certain exceptions can be made. However, also considered will be given to the size of the applicant pool and the needs of LACOE.
After the close of the recruitment or filing period, you should hear about the status of your application and the next steps in the selection process within two or three weeks. The entire examination process may include testing and interviews which may take several weeks.
Promotional examinations are for internal LACOE employees only. Open examinations are open to the public – anyone can apply. Occasionally, recruitments are advertised as "Open and Promotional" or Promotional and Open with Dual Certification. When an examination is Open and Promotional, the promotional eligibility list must be exhausted before successful open candidates can be considered for hire.
An examination can produce separate promotional and open eligibility lists. When "dual certification" has been authorized and noted on the recruitment bulletin, open candidates can be considered for employment from a merged list of promotional and open candidates. When the lists are merged, seniority points are added to the scores of promotional candidates. Appointments may be made from the promotional-only list or the merged dual certification list, but not from the open-only list.
Descriptions of our testing methods and advise on how to prepare is located on this website under "Examination Preparation"
In general, one must have "right-to-work" status in the United States, be at least 18 years of age, and be able to clear a criminal background check as required by the California Education Code. A list of causes for disqualification can be found in Personnel Commission Rule 4220.8.
Only current permanent LACOE employees and former LACOE permanent employees who have been laid off can compete in a promotional only examination. To be "permanent", an employee must have passed the initial probationary period. Any ongoing disciplinary action may result in the employee being withheld from eligibility until the disciplinary issue is resolved. A list of causes for disqualification can be found in Personnel Commission Rule 4220.8.
You do not need to claim seniority points; these will be added to your final grade in the case of dual certification. For each LACOE employee who passes all parts of the examination, staff will lookup the employee's work history and calculate the appropriate number of points. Seniority points are earned at the rate of one-half point per full year of service to a maximum of 5 points (10 years of service). Seniority points are applied only for the purpose of merged open and promotional lists for dual certification. They are not applied in promotional-only eligibility lists.
If you are a veteran, there is a place to note that on the online application form. Staff will follow up with you on what specifically will be required. In general, veterans serving during in a recognized period of military action with appropriate discharge papers will be entitled to 5 preference points; disabled veterans will be entitled to 10 points. Veteran's points are applied only in examinations for entry-level, non-management job classifications. Veteran preference points are added to the final score after all exam parts have been passed.
If you believe that there was an administrative error or an abuse of discretion in the evaluation of your application or in the administration or scoring of the examination, you should first discuss the matter with the analyst-in-charge. If the issue is not resolved, you may submit a protest to the Director of Classified Human Resources who will review the issue. If you disagree with the Director's conclusions, you may still have the right to appeal to the Personnel Commission.
If you resigned in good standing, and you successfully completed the probationary period for the job, you may seek reinstatement for up to 39 months since your resignation. Notify the Office of the Personnel Commission of your desire to seek reinstatement, and you will be give instructions. You will not need to compete in an examination to be considered for reinstatement; however seeking reinstatement is not a guarantee of re-employment. To fill a vacancy, the hiring authority will be able to consider the top three ranks of the eligibility list and former employees seeking reinstatement.
If you passed your probation period in the job, you will have re-employment rights to your former job classification for up to 39 months. Re-employment offers are made in the reverse order of layoff – those with the most seniority in the classification are re-employed first. For re-employment you do not need to take an examination. However, to be hired in a different classification from which you were laid off, you will need to compete by examination.
You are placed on an eligibility list which is ranked on the basis of overall examination score. Only the top three ranks of an eligibility list (of those available and willing to accept an assignment in the given geographical area) may be referred to the hiring authority for consideration for hiring. The hiring authority will then contact you for an interview. You may be contacted by a hiring agency for an interview at any time during your eligibility period.
One year; however, an eligibility list can be extended for up to three years. Further, a list can be established for six months if it says so in the bulletin, and may be abolished by the Personnel Commission if conditions require.
You may decline a referral; decline a job offer, not report for an employment interview, or not being available to attend an interview two times. After the third time, you will be removed from the eligibility list and not be contacted for future referrals.
You may notify the Office of the Personnel Commission of the period you will be unavailable. This will be noted on the eligibility list, and it will not count as a decline or refusal.
Yes. Every new employee hired will be placed on a six-month initial probationary appointment; management positions have a one year probationary period. You must successfully complete and pass your initial probationary period to gain permanent status.
You will be contacted by Human Resources Services to be fingerprinted and cleared by the Department of Justice, and you will need to submit proof of passing a Tuberculosis test (Mantou test). Follow both screens, a start date will be established.
CONNECT WITH US
Office of the Personnel Commission
(562) 803-8360
personnelcommission@lacoe.edu