Lynwood School District Chief Named 2023 Los Angeles County Superintendent of the Year
Fri Oct 20 11:18:00 PDT 2023
Lynwood USD Superintendent Dr. Gudiel R. Crosthwaite will be honored on October 27 during the LA County Superintendents Collaborative.
Today, Los Angeles County Superintendent of Schools Dr. Debra Duardo, surprised Lynwood Unified School District Superintendent Dr. Gudiel R. Crosthwaite, during his State of the District event to announce his selection as the 2023 Los Angeles County Superintendent of the Year.
The Los Angeles County Superintendent of the Year (SOY) award was introduced in 2017 by the Los Angeles County Office of Education (LACOE) in recognition of leadership in learning, excellence in communication, and dedicated community involvement. 
"Dr. Crosthwaite leads with empathy, strength and compassion. He constantly looks for opportunities to build capacity and inspires creative ways to support students and staff," said Dr. Duardo. "He transformed the District's approach to education while making a significant impact to the most vulnerable student populations. Today we celebrate his exceptional leadership in advocating for children, families, staff and the community."
Dr. Crosthwaite has enjoyed nearly 30 years in education while teaching, mentoring and removing barriers to student success. Since joining Lynwood Unified in 2010 as Director of School Reform, his collaborative work and leadership has been instrumental in the District's extraordinary gains in student achievement, including rising graduation rates and increasing participation and success in Advanced Placement (AP) coursework.
Under Crosthwaite's leadership and advocacy, Lynwood Unified in 2022 received $250 million in state support to rebuild its Lynwood High School Imperial Campus, a big victory for the District and community. His guidance also led to every Lynwood Unified school being recognized in 2022 and 2023 with Positive Behavioral Interventions and Supports (PBIS) awards for their outstanding efforts in creating and maintaining a positive campus climate and creating an engaging environment where students can succeed. Additionally, this year the District secured a remarkable $24 million state grant to make all LUSD schools into a Community School, empowering them to enhance educational opportunities for all students.
"I want to thank LACOE for such a prestigious honor – one that I was not expecting. This award is a result of the collective efforts of our team and the community. Together we have worked tirelessly to create an environment in which students - regardless of background or circumstances – can thrive," said Gudiel R. Crosthwaite, Ph.D., Superintendent, Lynwood Unified. "I am beyond grateful for the dedication of our parents, staff, students and the community for sharing their commitment to excellence in education and equity for all. Our work continues from here!"
This year's SOY award winner will be honored at a luncheon for members of the 2023 Los Angeles County Superintendents Collaborative on October 27 in LA's historic Arts District.
LACOE will also present awards to the Los Angeles County Cabinet Members of the Year. This program recognizes and appreciates the stewardship and service of the often unsung heroes who serve in cabinet roles that support one or more of LA County's 80 school districts.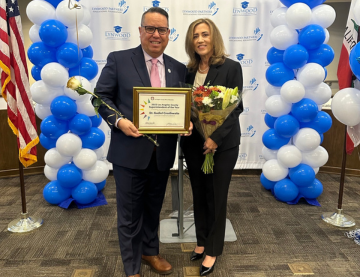 Dr. Duardo congratulates Lynwood USD Superintendent Dr. Gudiel R. Crosthwaite for being selected the 2023 LA County Superintendent of the Year.